The map below covers the Big Agivey (dark blue) and the Wee Agivey (light blue) over the fishable length of both rivers.
The map uses a reference list for Roads, Bridges and well known Pools. The roads in the area are well signposted with road names at every junction.
The bridges all have name signs attached so are useful reference points for visiting anglers.
A list of some of the best known pools is attached and linked to pictures.
The map and reference list can be downloaded in both PDF or Word format for printing on a single A4 page
(colour is recommended but mono laser is still quite readable).
River Agivey & Wee Agivey Map: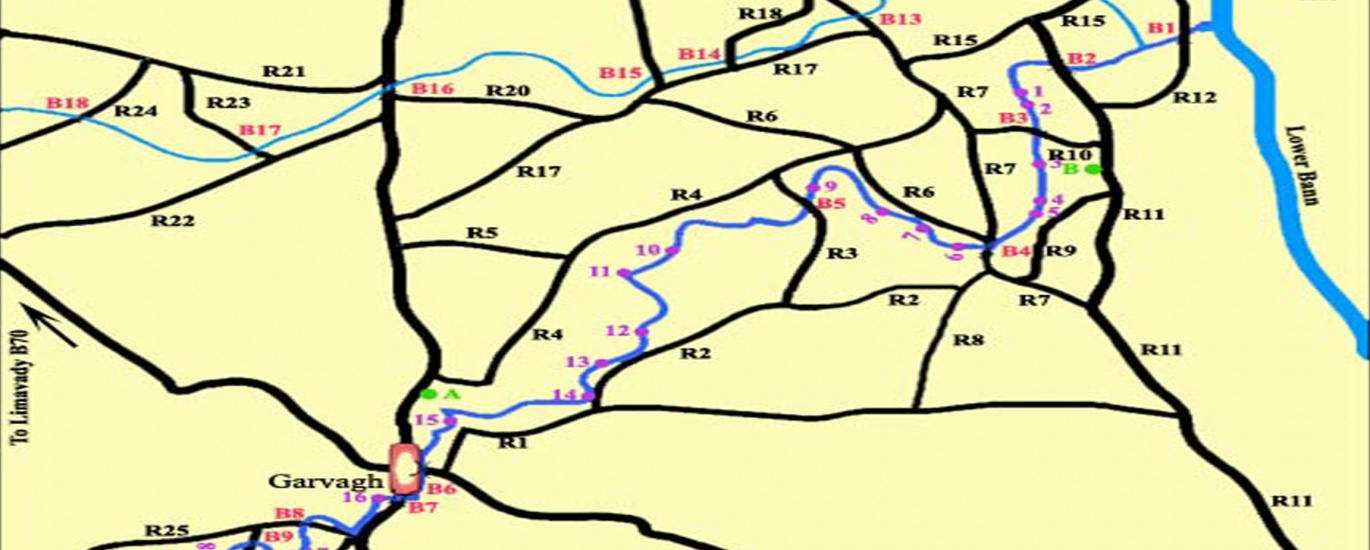 Named Roads:

R1

Station Road

R2

Ballyagan Road

R3

Brone Road

R4

Moneycarrie Road

R5

Killykergan Road

R6

Ballygawley Road

R7

Mullaghinch Road

R8

Cullyramer Road

R9

Clagan Road

R10

Cullycapple Road

R11

Agivey Road

R12

Glasgort Road

R13

Bann Road

R14

Curragh Road

R15

Glenkeen Road

R16

Moneybrannon Road

R17

Ardreagh Road

R18

Ballydevitt Road

R19

Lisnamuch Road

R20

Greenhill Road

R21

Craigmore Road

R22

Gorran Road

R23

Ballynacally Road

R24

Mayboy Road

R25

Churchtown Road

R26

Temple Road

R27

Brocagh Road

R28

Glen Road

R29

Glebe Road
Named Bridges:

B1

Glasgort Bridge

B2

Brickhill Bridge

B3

Cullycapple Bridge

B4

Bovagh Bridge

B5

Brone Bridge

B6

Killeyvalley Bridge

B7

Ballynameen Bridge

B8

Green Bridge

B9

Glebe Forde Bridge

B10

Errigal Bridge

B11

Lower Brocagh Bridge

B12

Agivey Bridge

B13

Keely Bridge

B14

Ballydevitt Bridge

B15

Ballybritain Bridge

B16

The Two Bridges

B17

Gorran Bridge

B18

Maboy Bridge
Named Pools:

1.

Barley Pool

2.

O'Haras

3.

Hegartys Pool

4.

Clay Hole

5.

Barclay's Weir

6.

Hunter's Pool

7.

Bett's Pool

8.

The Rock Hole

9.

The Doctors Weir

10.

Broan Weir

11.

The Swirl Pool

12.

Lynn's Plum

13.

The Old Carry

14.

Lagoniel Weir

15.

The Alps

16.

Garvagh Weir

17.

The Green Weir

18.

White's Weir

19.

Kelly's Hole

20.

O'Kane's Pool